Patient Reviews & Testimonials

When our daughters' baby teeth started forming, we learned that they both had a condition called Amelogenesis Imperfecta. It is a condition where teeth form without any enamel. In turn, this makes the teeth look yellowish-brown. We also learned that this condition would more than likely affect their permanent teeth as well. A few of our friends and family have known about this condition since the beginning, but there were many times where both children and adults saw their teeth as rotted or worse. Fortunately, over the last 6 years, our dentist, Dr. Wiliam Netzley, and his fantastic team have worked extremely hard to make our girls smiles shine through. Today, both girls had work completed on their two front teeth. Their reactions brought tears to my eyes. We thank you for all you have done for our girls. 
- Steven D. Hernandez (Facebook)

Dr Netzley has helped my TMJ problems so much and I finally don't have headaches all the time! Also my 5 year old twins and my 3 year old are amazingly excited to go to the dentist every time. I am so glad they have such a great start on going to the dentist
- Katie McCormick (Facebook)

I've been with Dr. Netzley 7 years and I am still satisfied with my service! Not to mention the friendly office staff who accommodate both my daughters and my husband.
- Crystal Angel (Facebook)

Dr. Netzley and his staff are top notch! If you're looking for a dentist that is professional, friendly and always on the cutting edge of new technology...look no further! My husband and I so happy we've found Dr. Netzley and his team!!!
- Katie Boehm Otstot (Facebook)

We love love Dr. Netzley. Our whole family comes here and we are all seen on the same day. They treat us like family and the girls are great with my kids!!
- Jene Shipman (Facebook)
Dr. Netzley has been my dentist for decades. He is an exceptional dentist and current on all the latest technologies in dentistry. His office is always immaculate and welcoming. His office walls are tastefully decorated with outdoor photography scenes; the music is so soothing and relaxing.
Dr. Netzley's dental work is skillful; he is not only professional but personable as well. Katie, his hygienist is thorough and friendly. I had an emergency once on a Saturday and Dr. Netzley opened his office and took care of my pain so promptly. His office staff is efficient and welcoming as well.
If you are looking for a top notch dentist, then Dr. Netzley and his staff are the ones for you.
Look no further,
- Bev D. (Handwritten Note)
Dr. Netzley,
I want you to know I am so glad to have good christian man and dentist.   You are hard worker, You are always smiling and a happy man. You always nice to me, How many years do I now you? Over 45 years, How many years you give me a ride home many, many years.
I am so thankful I never forget you God Bless, Your family,
- Eiko Kelley (Handwritten note)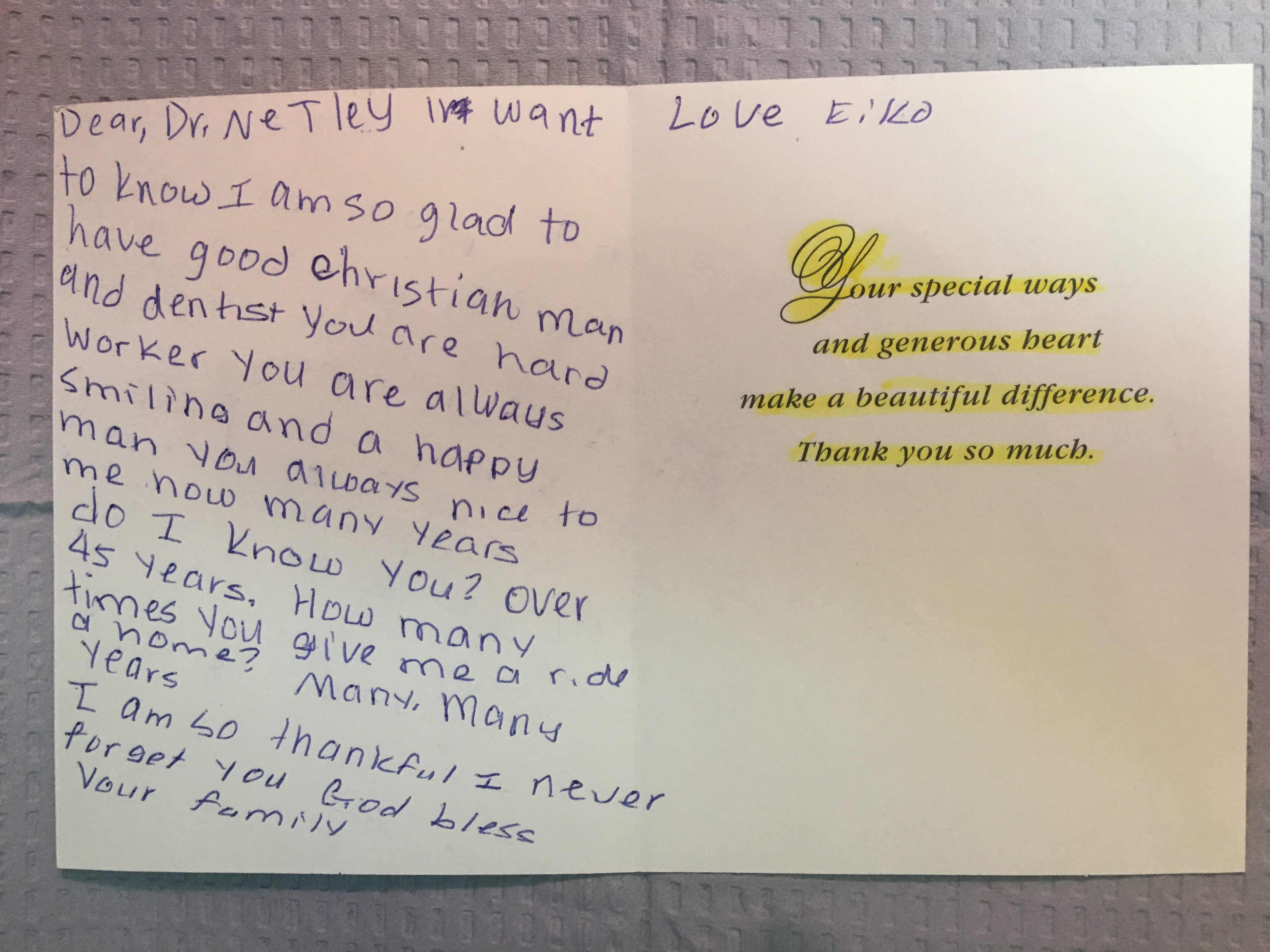 Patient Video Testimonials