A Smile Makeover Will Change Your Life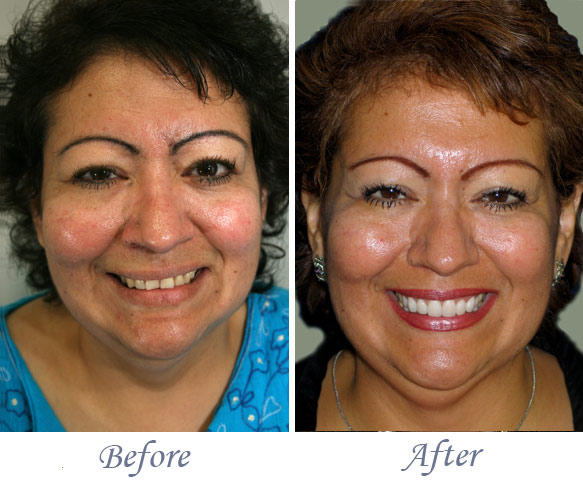 What Is A Smile Makeover?
A Smile Makeover is the process of improving the appearance of your smile through one or more cosmetic dentistry and dental restoration procedures, such as: Dental Veneers, Tooth Bonding, Dental implants and more.  If youre missing most or all of your teeth, then getting a set of full or partial dentures can be considered a Smile Makeover procedure that will get you smiling and chewing normally again.  A number of different factors need to be taken into consideration such as your age, facial features and the image you want to project when considerting a Smile Makeover.
The Smile Makeover Process
Dr. Netzley will begin the smile makeover process by talking with you and learning more about what goals you have for your smile. He'll then conduct a complete examination of your mouth and based on his findings, speak with you about the dental procedure options that would best fit your needs to give you a bright new smile.  Once you're fully informed of exactly what to expect, he will use all the latest technology in cosmetic dentistry to create your gorgeous new smile. In the end you will have a smile you can be proud of that will give you the confidence and self-esteem you deserve.
Some of the Dental Procedures We May Use in a Smile Makeover:
Teeth Whitening
Tooth Bonding
White Tooth Fillings
If you're ready to change your life, rest assured that we can give you the beautiful, bright Smile Makeover you've been wanting. Dr. Netzley and the team here at our dental practice in Fresno take great pride in helping others improve their self-esteem that a new smile can give them.
To schedule a consultation call (559) 227-4078 or send an email to team@netzley.com. Dr. Netzley is conveniently located in Fig Garden and serves all of Fresno, Clovis, Sanger and the surrounding areas.
Need to ask a question?  Don't want to call?  Feel free to send us a message.